D228 Lifting Competition is back!
Tuesday, April 26th all four district 228 schools gathered their strongest at Tinley Park to participate in this traditional event. Competitors were split into weight class and categories of bench, squat, power clean, and pacer running to place in groups of 6-8.
This day long competition was all high energy, and everyone was so supportive that they were really able to do the things they were doing.
There's no doubt, everyone was impressed that they could lift that much, 200, 300, 400 pounds like it was easy!
Even more amazing, Hillcrest girls placed in almost every category! Some great lifts got them 2nd place in squat, 1st in power clean, 3rd in pacer, another 3rd in squat, and more in all weight classes. Lots of weight was put on that these girls weren't sure they could lift until that day.
The gap from how much the boys were lifting to the girls was pretty wild too, it's sure that anyone that would've witnessed these kids lift would be mad impressed.
Scores were tallied, and Hillcrest was called for 3rd place overall.
This new experience was absolutely a bonding trip for the students and let them experience a new kind of sport; great for opening the door to bigger opportunities. They had a good time, and there was so much confidence that there is room for improvement, and the improvement will be made! Students looking to lift next year are definitely recommended to try it. Speak up!
Big shout out to the wonderful gym teachers that helped put that event together. We students are so lucky to have this kind of support and access to our new weight rooms that helped make this event possible.
---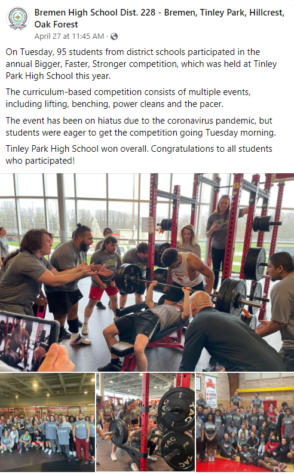 https://www.facebook.com/BHSD228