"Hall of Famer" Scores Big at Hillcrest's Family Reading Night
My book is for the classroom, boardroom, training room, and family room." -Michael Jennings: retired football player, motivational speaker, and Chicagoland TV show host.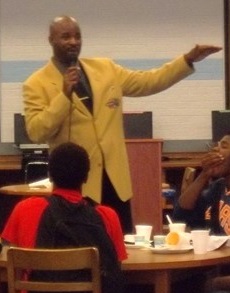 Retired football player and recent author Michael Jennings scored touchdown after touchdown with the audience at Hillcrest High School's Family Reading Night on October 2.  His book, Road to the Hall of Fame … More Than I Expected, documents the "painful injuries and unexpected challenges" he encountered as a player and seeks to motivate and inspire today's generation.
A wide receiver for both the NFL and the American Football Association, he retired from the game after a career ending injury.  Jennings, who was inducted into the AFA Hall of Fame in 2005 spoke at length of his journey to become a Hall of Fame athlete.
Using humor, interaction with the audience, and personal stories of breakthrough moments in his life he encouraged young audience members to develop the mindset of always giving 100 percent.  Audience members, a large number of them Hillcrest athletes, responded to his message with enthusiastic cheers and applause.
Road to the Hall of Fame … details some issues from the author's personal experience, but according to Jennings his book also promotes the core principle of acquiring good values that affect all aspects of life.