Hillcrest Students Visit Orland Park Prayer Center Mosque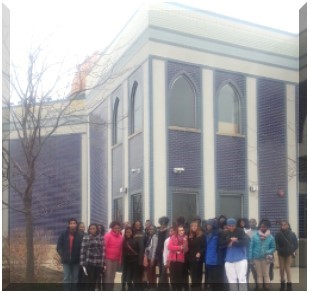 P. Stevens, Hillcrest High School Publicity Director
December 17, 2014
Hillcrest High School students from Mr. Banach's World Civilization class and Mr. Hennessy's Advanced Placement Human Geography class traveled to the Orland Park Prayer Center Mosque to learn about a different faith that they were not familiar with and to dispel common myths about various religions.
"
This trip made a long-lasting effect on my life."
— Timeon Oyeyemi
The Orland Park Prayer Center was established as a place of worship for followers of the Islamic faith.  The students compared and contrasted different aspects of various faiths and their traditions.
"I learned that like Christianity, Islam teaches that there is one God in the universe, making Islam a Monotheistic religion like Christianity," said Antoine Thompson, AP Human Geography student.
AP Human Geography student Timeon Oyeyemi stated, "This trip made a long-lasting effect on my life.  I am not in the dark and now know the aspects of the Muslim faith."