Attachments: A Review
***Warning: May Contain Spoilers***
Attachments is set in 1999 Nebraska with Beth and Jennifer, the best friends who work for a newspaper company. Then there is Lincoln the I.T. guy who reads everyone's emails who gets red flagged.  This isn't the job that he imagined he would have; Lincoln imagined building fire walls and stopping hackers. Talking about their Personal lives: Lincoln starts becoming interested in Beth and Jenn's emails, and he eagerly waits for them as he goes to work. Soon Lincoln starts to fall in love with Beth through her emails. Eventually, he realizes it's too late. How will he be able to approach her and say, "Hi, I'm the guy who reads your emails, and I like you???"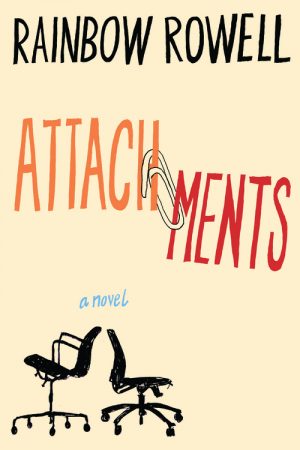 I thought this book was very easy to read. The majority of the book is in letter format and the chapter breaks are frequent. The main character Lincoln is a 30-something still living with his mother and can't get past a break up with his high school sweet heart that happened ten years ago. Lincoln never knew what he wanted to do when he left high school. He was good at learning and going to school: for the past ten years he has continuously gone to college earning degrees in subjects he was interested in. Lincoln is described as tall stocky medium length hair, and light eyes. For his social life he plays Dungeon and Dragons with a few of his friends.  Beth and Jennifer write letters that are witty and fun to read.  They talked about their relationships and what they thought was going on in the office. Beth had a boyfriend at the beginning of the book; they have been together for about 10 years. Beth is patiently waiting for her boyfriend to purpose to her. Jennifer is married but not happily. Her husband's wants to have a child but she doesn't want any; that would lead to arguments.
Throughout the story Beth, Jennifer, and Lincoln have character growth.  Lincoln starts to hang out with more friends and go clubbing. He even makes a few friends at his job. One of his main friends is Doris an elderly lady that is about to retire form the newspaper. Lincoln has conversations with Doris and she really helps him get the courage to move on from his high school sweetheart, talk to Beth and Move to his own apartment.  Lincoln moves out of his mother's house and stays in Doris old apartment when she moves to a nursing home after retirement.   Jenn had gotten pregnant, that lead to a miscarriage. During the brief pregnancy she would tell Beth that she didn't want the child and she wish "it" would go away. After her miscarriage she started to feel bad and was really sad for losing the child.  Beth finally broke up with her boyfriend after he told her that he couldn't marry her. His reasoning was that she was too much.  After Lincoln found out about the breakup he couldn't talk to her.
As the story progress he starts to feel guilty: this guilt leading up to him quitting his job and going back to school. When he quit his job he wrote Beth a letter telling her about him and how she and Jenn should stop using their personal email. While back at school he works for the school nursing Department in order to get his degree for free.  Lincoln also goes on a few dates.  Beth and Lincoln finally got together at the end of the book when they accidentally went to see the same movie during a make out session Beth ran back to the newspaper and had a conversation about his snooping and them being together. After a few months of dating Lincoln and Beth have a conversation about love. To sum it up Beth told Lincoln that she never knew somebody can lover without space. Lincoln's reply was, "there is no air in space".
A part of the story I felt should have been extended was when Lincoln runs into his ex from high school. While renting a movie they run into each other. She tells him how she is married with two children.  During the encounter she was very handsy and to me she was flirting a little bit.  She told Lincoln that she couldn't believe she married somebody that wasn't American.  She said she moved back to town because she wanted the kids to know their grandparents also, that her husband received a job in Dublin and he is checking it to see if the whole should move. I think during the she was lying and that her husband left her and moved back to his hometown Dublin. Before the encounter is over she tries to get him to go to some of their old places together and talk. Lincoln awkwardly declines and when she leaves she give him her card:  he threw away.

I would rate this book four stars because at some points it was slow. I was reading the story waiting for Beth and Lincoln to get together.  I felt they should have gotten together about halfway into the story and the other half it could have been about their relationship.  I felt that the plot and the way it was executed was well done. I liked how she ended the story with Lincoln saying "there's no air in space." It was something that I wasn't expecting; the ending I expected them to be getting married and living happily ever after: being my first Rainbow Rowell book.  As I said earlier the characters were enjoyable and they had good development as the story progress. If you are looking for a fun, quick and easy read, then defiantly pick up this one and give it a try.