"Almost Christmas" A Fine Follow-Up to "This Christmas"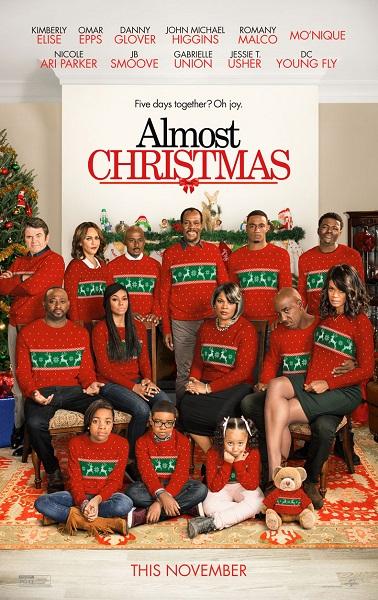 On the 11th of November 2016 another family Christmas movie was released. David E. Talbert wrote and directed Almost Christmas. The movie, which is similar to This Christmas, tells the story of a family at Christmastime, and of course, there is no smooth holiday with this family. Holidays can either be the best or the worst for a family, but just like any other family if there  are problems, they can be worked through.
There are many actors who are very well known such as Monique, Gabrielle Union, Omar Epps, Danny Glover & plenty more. The fun bubbly cast seem to have a great way of showing the fun they have on the set. It genuinely looks and feels like a regular but also dysfunctional family. Walt Meyer (Danny Glover) , the father in the movie, brings his family together for a traditional holiday celebration after the recent passing of his wife. He knows that his family will have a hard time being around each other for a full five days. He deems it as a Christmas Miracle for the bickering family to be together for five days.
Almost Christmas begins as a scene in the 1970s that follows Walt & the wife, Grace, marriage, good and, of course, the bad until her unfortunate death. The core of the movie leads up to him hosting his annual Christmas event in the house that he and wife owned in Birmingham, Alabama. All his children and grandchildren gather to celebrate the holiday, and that's where drama erupts.
Two of his daughters, Cheryl & Rachel, are what you call sister-rivals' ultimately, they cause the most bickering. They cannot seem to get along at all. Also Cheryl & her husband Lonnie Argue frequently throughout the movie, but love prospers in another place. Rachel's daughter Nita offers advice to her mother about perhaps trying to be in a relationship with a neighbor. Even Walters two sons have experienced problems of their own. Christian has difficulties securing his spot in Congress, while Evan cannot seem to stop taking painkillers or deal with the grief of his passing mother. Overall, you definitely were let in on family secrets and problems.
In my opinion, there was not enough comedy since it was labeled a comedy movie. The movie should have been both serious and comical. The movie just was not funny enough, and othere were scenes or lines you'd laugh at, but the trailer displayed something totally different from the actual movie. The trailer prepares you for a movie that you'll laugh most of the time at; unfortunately, that was not the outcome.
Even without the comedy element, the movie was not bad at all. There were fair shares of laughs, arguments, bickering back and forth, and love throughout the movie to actually enjoy it. If I were a critic I'd definitely give this movie a 4 stars out of 5. If you liked This Christmas, Almost Christmas would be a great runner up movie to enjoy with the family.