Hillcrest Track & Field 2017
2017/05/16: Congrats to Dani Hussey in the Pole Vault and Kayla Weddington in the Long Jump on their outstanding performances at Sectionals last week. Both ladies will be traveling this Thursday to State held at Eastern Illinois University.
---
2017/05/05: Congrats to the Girls Track and Field Frosh/Soph team on their 2nd place finish at Conference last night held at Lemont High School. Medalists were Gabby Are, Teyha Allen, Eyani George, Amya Nesbit, Kendall Walker, Starr Branch, Demi Durham, Zanea Hughes, Jashona Hopson, Vashi Black and Precious Hollinside.
Varsity medalists were Dorcas Adekale, Tia Pollard and Dani Hussey.
Great job ladies and good luck at Sectionals next week!
---
2017/04/07: Congrats to the Hillcrest Girls Track and Field team on a Third place finish at the Kankakee Invite.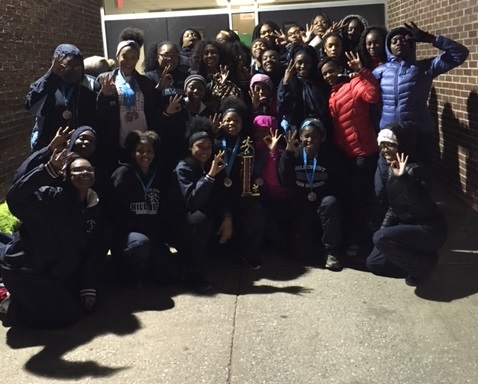 ---
2017/02/27: The Hillcrest Lady Hawk track team did a wonderful job at the Bloom Trail Friday Night Lights. Top finisher and medalist was Amya Nesbit in the 55 High Hurdles.
---
2017/02/20:  Congrats to the Girls Track and Field team on a great showing at the first indoor meet of the season at Thornwood High School. Top finishers were Amya Nesbit in the 60 high and low hurdles, Jasmine Curry in the mile, Dani Hussy in the High Jump and Dorcas Adekale in the triple jump.