The Wide Receiver Era
The heart of the National Football League is the offensive side of the ball. There is much more to it than that but people want to see touchdowns scored and dance celebrations in the end zone. Wide receivers are idolized more than any other position. Watching wide receivers catch passes is one of the most enjoyable things to do. Let's start with the basics, let's break these players down see how this all works.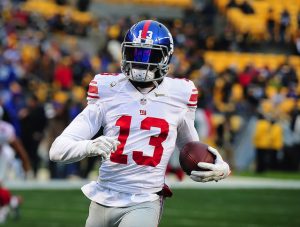 N.F.L wide receivers have one job to do: Quarterback throws you the ball – wide receiver catches the ball -maintains possession, secures the ball, and has both feet in bounds – use moves off the line of scrimmage and run a good route. What makes wide receivers different than any other position is the swag they have. Any time you see a receiver play, they wear customized cleats and gloves. A helmet visor is a big new look now, too. The clearest way I can think to demonstrate all this is Giants wide receiver Odell Beckham JR. Odell or OBJ has been a sports icon ever since he made "the catch" his rookie season. On Monday night football versus the Dallas cowboys, Odell made arguably the best catch in N.F.L history. After that game he has appeared in over 10 commercials and kids have even adopted his blonde mohawk hairstyle. His touchdown celebrations have become internet hits. He is the reason to watch a New York Giants football game.
The games are very fun to watch. Especially when your favorite receiver goes up against one of the best corners or pass defenses. There are many good and possibly great wide receivers in the N.F.L right now. My top five are Julio Jones, Antonio Brown, Amari Cooper, AJ Green, and Odell Beckham. There are others guys: Deandre Hopkins, Desean Jackson, and a recently retired Calvin Johnson was good, too.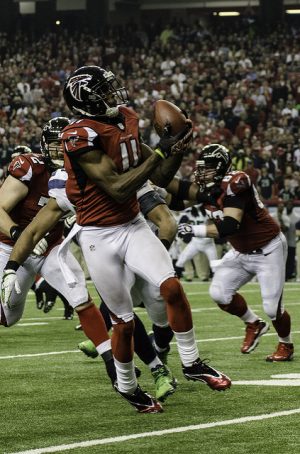 The N.F.L will be so talented with receivers soon that teams won't worry about drafting a receiver high in the draft. The future expectations are tall – six foot three to six six fast men.
Wide receivers have more good players at this position more than any other, but I want to talk about some bad things about receivers today. One thing about today's football games that irritates me is when the referees make a bad call. Football is an offensive-minded game today. People want to see touchdowns. If a corner breathes on some of these receivers, then it can be a penalty. Referees are told to give to the offense before the defense. It is rare that a referee will let them play. Some receivers do stir up controversy. Odell Beckham and Dez Bryant are the most emotional players in football. If something does not go right for Odell, he will cry. If Dez Bryant has a problem with someone, he will curse them out in front of a camera. People are not attracted to that kind of stuff.
Football and basketball are my favorite sports. I intend to write more sports articles in the future. I really enjoyed writing this one. I highly recommend to pay your attention to wide receivers.