Hillcrest Art Society Earns Award in Tinley Park "Benches on the Avenue"
The Hillcrest Art Society was recognized Saturday night during the Tinley Park's Music in the Plaza concert in Zabrocki Plaza for its entry into Tinley Park's 2017 Benches on the Avenue: "The Power of Music." Hillcrest's Art Society was honored with the "Best Group/Family Project" award for the bench titled "Heavenly Sounds."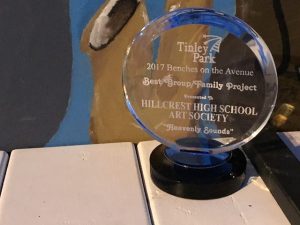 According to tinleypark.org, "Tinley Park's Benches on the Avenue public art program has become one of the Village's most popular attractions, drawing thousands of residents and visitors annually to Downtown Tinley. The colorful benches feature the work of both amateur and professional artists and provide spots to rest and enjoy the fantastic creations while strolling through town."
Hillcrest's bench is a tribute to Bremen High School District 228 fine arts supervisor Keith Anderson, who recently passed away from cancer. Mr. Anderson received numerous awards during his career, including the prestigious Golden Apple Award for Excellence in Teaching. His musical influence is timeless and can be heard from the heavens. Wood, metal and found musical objects were used to construct the bench.  
Art Society Sponsor Mrs. Jamilah Adebesin Mason and recently retired Industrial Tech teacher Mr. Mike Macabobby oversaw the project while original designs/painting were created by Timeon Oyeyemi and Mia Jones. Donte Jones worked on the construction of the organ pipes and Nia Brown, Cameron Richardson, Lisa Nyamusevya, Oluwatosin Otabor, Steven Thomas, and Lilyanna Hinkle worked on painting and final designs.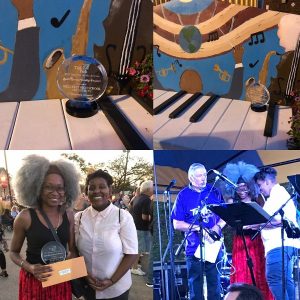 To hear Garrett Gray interview Mrs. Adebesin Mason during a special on-location edition of "Discover Tinley" follow this link: https://youtu.be/lnkDAlcUB78?t=12m8s
The Hillcrest Art Society bench can be viewed until October at 17236 Oak Park Avenue in Tinley Park.
For more information concerning Hillcrest's Art Society, please contact Mrs. Adebesin Mason [email protected].
---