Top 6 Christmas Movies Of All Time!
Can you feel the Christmas spirit?  Here are the top 6 Christmas movies (in my opinion) that are guaranteed make you feel holly and jolly.
---
6) The Nightmare Before Christmas
Jack the skeleton, the Halloween horror wants to become holly jolly Santa Claus. This movie will always be a classic. It is not my favorite, but it is very entertaining.
~ ~ ~
5) Eight Crazy Nights
Davey Stone (Adam Sandler) a 33-year-old alcoholic learns love, forgiveness, and friendship by his friend Whitey Duvall who wants to bring Christmas spirit to his town, and win the Christmas trophy. This is the perfect mean friend and nice friend movie combo!
~ ~ ~
4) Elf
Buddy was sent to the north pole by accident where he is raised to be an elf until he turns  into a young adult. Santa sends Buddy to New York to find his real dad. Buddy is stuck in his elf ways and has to adapt to living in New York with his dad and mom. This movie is filled with humor and has a really good message.
~ ~ ~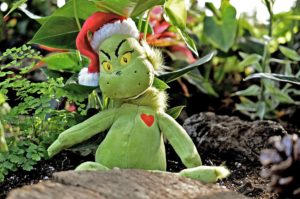 3) How the Grinch Stole Christmas
The Grinch decides to ruin Christmas for the happy citizens of Whoville. He meets a little girl who changes his thoughts on Christmas. Everyone knows this mean green Christmas ruining machine. This movie has been a holiday classic for years. From the animated version to the live action movie. It is a funny movie that will always make me laugh and get into the Christmas spirit.
~ ~ ~
2) Rudolph the Red-nosed Reindeer
A claymation movie about a reindeer whose nose was red. This is a classic and everyone knows Rudolph the reindeer who saved Christmas with his red nose.
~ ~ ~
1) A Christmas Story
The best Christmas movie ever created!  It is a live action movie about a young boy's Christmas experience. It has lots of humor and relatable scenes. All around a great Christmas movie to watch by yourself or with your friends.
---
Sit back, grab some popcorn and hot chocolate and enjoy these six movies. Most importantly have a happy holiday.