Hillcrest Swimmers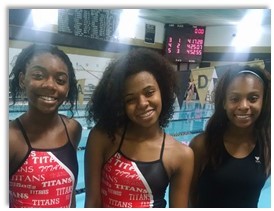 Three Hillcrest freshmen have had a busy year adding swimming to their list of accomplishments.  Cameron Williams, Alexander Foster, and Damari Hudson traveled each day from Hillcrest High School to Tinley Park High School to fulfill their passion to swim.  The swimmers were in the pool for over two hours of intensive training each day.
Alexandra and Cameron competed at the conference meet Wednesday at Tinley Park High School.  Alexandra swam in the 50 freestyle and 200 freestyle, dropping time in both events. Cameron competed in the 50 and 100 freestyle events, swimming her personal best time.  She finished third in the 50 yard freestyle.  Cameron also participated in the 200 freestyle relay; she also swam her personal best time for the season.
"Both of the girls worked hard all season and improved times throughout the year," said Luke Bell, Tinley Park Assistant Swim Coach.
"Demari Hudson joined the team mid-season and worked extremely hard to not only catch up, but to compete with the other athletes. She was a hard worker and with another season under her belt, I know she will be a great swimmer," said coach Bell.  Congratulations girls! Hillcrest staff and students are proud of your accomplishments!