Hillcrest Talent Show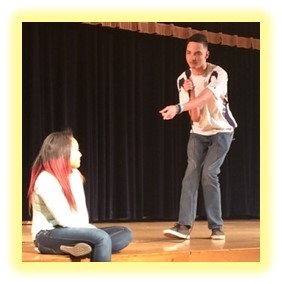 If you did not make your way to the third annual Hillcrest Talent show sponsored by the Pom Pon squad, you sure missed out!  The night was filled with an array of performances from different cultures, styles, and sounds.  With the cafe packed with lively students, fans and family, the stakes were high for all 14 performers.  At the end of the night, the judge's tallies were counted and the top three performers were announced.   The judges used score sheets which ranked each performer's originality, stage presence, crowd involvement and overall talent.  The first place prize went to Jessie Craig who performed a traditional love song, "Take me or Leave Me" from the Broadway production of Rent.
"I was so excited to be recognized for my talent," said Jessie.
The second place winner was Maurice Edmonson who sang a song by Sam Smith.  The rest of the night's acts ranged from Christian singing, rapping, duets, and even "robot" dancing.  Between performances, Teria Halsell entertained the audience with her humorous comments and anecdotes on each performance.  The Talent show committee enjoys putting their efforts into the show every year to give students the opportunity to showcase their talent.