Hillcrest's BPA Announces Newly Elected Officers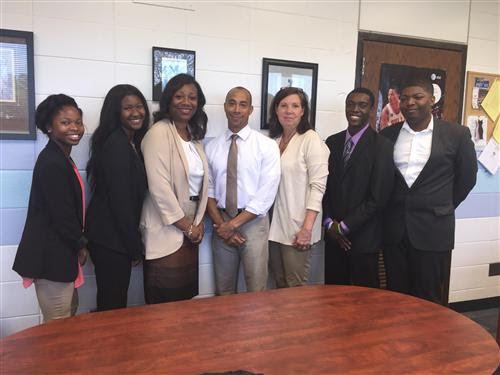 Hillcrest's chapter of the Business Professionals of America (BPA) has announced its newly elected officers.
Congratulations to the following who were elected as officers of BPA: PierreTutson – President, Raqeeb Yarrow – Vice President, Tia Pollard – Director of Public Relations, Faith Durdin – Director of Marketing/Field Trips, Lardell Clark – Liaison of FACCS and BPA and Director of Charities, Natalie Williams – Treasurer, Justin Ayonde – Secretary, and Media Specialist – Chaleisa Butler.

BPA Officers were put through a series questions regarding their vision and their personal viewpoints regarding representing Hillcrest in the Business World.
BPA is the leading CTSO (Career Technical Student Organization) for students pursuing careers in business-related fields. BPA has divisions in 19 states and has approximately 50,000 members. BPA is a "co-curricular" national organization that that offers curriculum based on national standards. The Workplace Skills Assessment Program (WSAP) allows students to demonstrate the workplace skills they have gained by competing in the areas of finance, business administration, management information systems, digital communications and design, management, marketing & communication.
All students are required to become members of the Business Professionals of America Club. This is a national student organization that provides the opportunity for the development of leadership skills, personal and professional growth, and career-related competencies.
Further congratulations to President Pierre Tutson and his marketing team for developing a relationship with the Country Club Hills Chamber of Commerce. The Chamber will be sponsoring BPA as well as giving the students a Business Office off campus. Convincing the board to partner with Hillcrest were Pierre Tutson, Faith Durdin, Tia Pollard and Lardell Clark.
The HIllcrest BPA is making major strides with one goal in mind: To put Hillcrest on the map as an Professional Organization and represent Hillcrest with integrity and dignity!
For more information, please contact BPA Sponsor Mr. Braden [email protected]