Hillcrest HS FCCLA Students Train for CPR Certification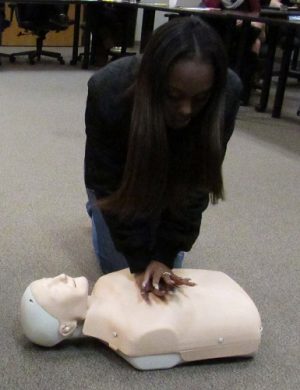 Hillcrest High School Junior Rayel Gilliam begins compressions on her CPR dummy in order to practice crucial life-saving skills.
Gilliam was part of a District #228 workshop in which FCCLA classes brought career-ready skills to the students who worked towards their certificates of completion for CPR Certification and First Aid Training.
These students are part of FCCLA classes that are taught by Oak Forest High School teacher Kristina Blair and Hillcrest High School teacher Michelle Youngberg.  Kristina Blair is a certified CPR Instructor which qualified her to perform the training.
Hillcrest High School students who worked towards their certificates of completion were: Ceyanne Dickerson , Jophe Jelks, Te'a Richardson, Alasha Ruff-Shores, Darien Byrdie, Lardell Clark, Terriana Stanback, Christopher Williams, Rayel Gilliam, Maya O'Neal, Tanisha Sharp, and Jawuan Williams.  The Oak Forest High School students were Alaya Arambula, Hannah Baker, Brittany Bourne, Alondra Castillo, Jennifer Colander, Emiah Holmes, Cassie Larsen, Jaime Mahoney, Alexander Martinez, Nicole Neri, Daisy Rosas, Kayla Shanna, and Paige Smith.
Congratulations, students, on your hard work!
For more information, please contact FCCLA teacher Mrs. Youngberg at  [email protected].