Hillcrest HS National Honor Society Inducts New Members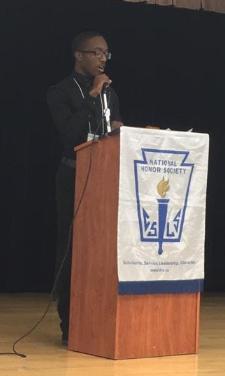 The Hillcrest High School Falcones chapter of the National Honor Society inducted 32 new members on Thursday, November 3rd. Potential inductees went through a rigorous application process and were chosen because they displayed excellence in the areas of scholarship, leadership, service and character. The MC of the event was current NHS president, Dylan Jernigan. The guest speaker for the night was Jason Thomas, executive director of 3 Seeds Mentoring Group www.3seeds.org. He spoke about the importance of serving other and the power of education.
According to current NHS member Courtney Collier, "I am excited to work with all of the new inductees because they seem enthusiastic about service and being members of the National Honor Society at Hillcrest."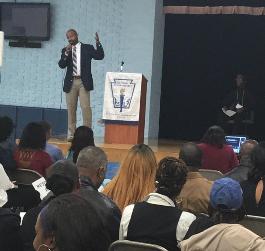 "This is my first year as the sponsor for NHS at Hillcrest and I was so impressed by this year's inductees and the current members I have been working with all year." wrote sponsor Lindsay Lopez. "I am thrilled to go from 16 to 48 students. These students are so excited to get started on their community service hours and projects throughout the year."
NHS Inductee Te'a Richardson-Smith said, "I was excited when I found out I was going to be inducted into NHS. I feel extremely accomplished by being inducted. Being in NHS will allow me to have more opportunities in life and it made me feel privileged to be a part of this esteemed society."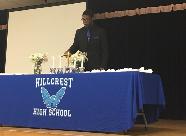 New Inductees include Dorcas Adekale, Amari Anderson, Bessie Barlow, Kevin Bautista, Nailah Brown, Chaleisa Butler, Ezenna CMadu, Kaitlyn Cooper, Jibril Dean, Aryrreon Douglass, Faith Durden, Najio Fields, Alexandra Foster, Dorion Franks, Florrie Gittens, Lilyanna Hinkle, Demari Hudson, Delois Ivery, Japhe Jelks, Danielle Joseph, Andres Lira, Timeon Oyeyemi, Tia Pollard, Devin Preston, Te'a Richardson-Smith, Briana Ritchey, Alasha Ruff-Shores, Leah Tolliver, Tierra Weathersby, Kayla Weddington, Tilmon Wooden, and Taliah Woodson.
Congratulations to Hillcrest's newest members of the National Honor Society!
For more information, please contact sponsor Lindsay Lopez http://bhsd228.schoolwires.net/Domain/396.