Hillcrest Interact Club Volunteers at the Hot Chocolate Race Expo
The Hillcrest High School Interact Club volunteered at the 2016 Hot Chocolate Race Expo on Friday, October 28, 2016. Interact Club is a volunteer organization which encourages community service and and international understanding.
At the Hot Chocolate Race Expo, a group of 219 students from many schools and organizations participated in this volunteer experience.  Hillcrest students were the first point of contact for race participants and had the responsibility of assigning race day bibs.  After receiving about 2 minutes of training, our students were put to work. During the experience students interacted with race day participants, fielded questions, provided information, troubleshooted computer/scanner issues and came through with flying colors.
Interact Club sponsor Mrs. Wade said of her group, "I am so proud of our students and the wonderful job they performed."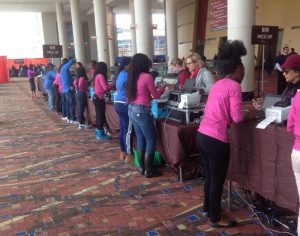 Student Aysia Taylor reflected, "Our field trip experience to the McCormick Place was very interesting and we got a lot accomplished. It was a little frustrating in the beginning operating the printer and computer, but once we solved the issue we as a team got the job completed. It was my first time experiencing the McCormick Place and assigning bibs to the runners, and I really enjoyed myself, and I hope everyone who attended this activity enjoyed themselves, too!"
This was a great experience for our students because it truly gave them an idea of what event planning and execution entails as well as how positive customer service makes all the difference.
Hillcrest Interact Club Rocks!
For more information, please contact Interact Club sponsor Barbara Wade at http://bhsd228.schoolwires.net/Domain/391.