Hillcrest Hosts "Destination Graduation" Celebration
As part of Hillcrest's continuing focus on academic achievement as expressed in the slogan "Destination Graduation," on Friday, January 13th, 2017, Hillcrest High School sponsored a celebration in honor of students who have demonstrated academic success at Hillcrest during the first semester of the 2016-2017 school year. All students passing all classes first semester were invited to the event in the gym after 7th period.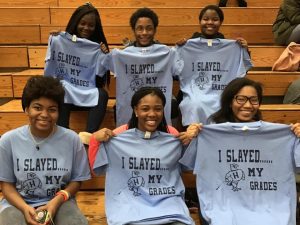 Amaya White ('18) reflected on the event: "The party was an experience for me; I didn't consider myself a Hawk until Friday. The party included activities such as roller skating and blading, scooters, an inflatable obstacle course, and an inflatable hamster wheel."
Special recognition was given to all students who earned all A's and B's first semester. These students received a special t-shirt with the motto "I Slayed My Grades" emblazoned upon it and the school mascot on the front and #destinationgraduation on the back. These t-shirts were a gift made possible by the generous donations of Hillcrest faculty, administration, and staff.
For more information concerning Hillcrest's upcoming events or activities, please visit the school website: http://bhsd228.schoolwires.net/Domain/379
---
Dr. Simms, Mr. Kahney & #TheHawkEmpire family give up their time to prepare for celebration @TheHawkEmpire pic.twitter.com/yISCKMcqY6

— @Thehawkempire (@TheHawkEmpire) January 14, 2017
#Celebration4awesomeness #thehawkempire #ourstudentscomefirst pic.twitter.com/U9luXCA42v

— @Thehawkempire (@TheHawkEmpire) January 13, 2017