Hillcrest Students Visit Joliet Junior College Culinary Open House
Hillcrest High School students from Mrs. Jean Sweeney's, Ms. Alicia Sink's, and Ms. Christina Botica's  Culinary Arts classes recently attended a Culinary Arts Open House at Joliet Junior College on February 20th, 2018. Students were able to see the state of the art culinary facilities JJC has available at their downtown Joliet campus.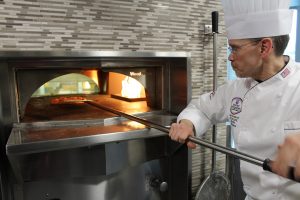 Alicia Sink, Family and Consumer Science Teacher stated, "The students were amazed to see what an Industrial Kitchen looks like first hand, instead of myself explaining how the kitchen would look like. The students got to experience all the different variations of culinary classes that JJC has to offer and even sample some of the amazing recipes that the JJC students have made in their classes."
Dr. April Nykaza, Career and Technical Education District Supervisor shared, "JJC has an outstanding culinary program. The field trip attended by our students literally gives them a taste of all that JCC has to offer. The award-winning chefs that run the program are approachable and work hard to help their students experience success in an effort to help them gain the skills needed in the industry."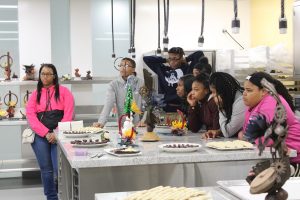 Students attended a variety of breakout sessions from learning more about the culinary programs the college offers,  everything from chocolate sculptures being created to a 500 pound ice block get carved in front of them! Students were able to see the different classrooms and kitchens within the campus. Students also had the opportunity to listen to current students share their experiences from the program and what they have learned so far. When asking students about their experience on the field trip, Maurice Coleman shared his enthusiasm in regards to the ice sculpture session, "It was neat to see that you can take a class like ice sculpting."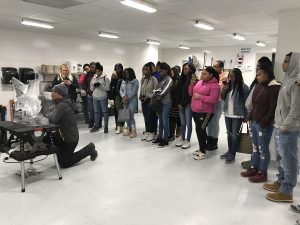 "I love that JJC promotes their program to the high school students and allows them to get a visual on the program and the exciting opportunities it has to offer. Our students walked out of the building with a whole new perspective on what they can do after they graduate high school," shared Family and Consumer Science teacher Christina Botica.