Hillcrest Students attend 100 Black Men College Fair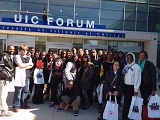 P. Stevens, Hillcrest High School Publicity Director
October 13, 2014
"
The best part is to see our students interact with the universities."
— Assistant Principal Simmons
Hillcrest High School's Assistant Principal Mr. Terrence Simmons, along with Dr. Shanyta Russell and Mr. Hank McDonald, chaperoned over thirty Hillcrest students as they attended the 12th Annual 100 Black Men of Chicago Annual College Scholarship Fair that was held at University of Illinois Chicago (UIC).
The Hillcrest Students were able to visit over 170 colleges ranging from Alabama's A & M to Northern Illinois University to Yale University.  Students had the chance to attend workshops on financial aid, scholarships, and exam preparedness as well as talk to recruiters. Seniors had the opportunity to receive on site acceptance, scholarships, and information to finalize their decisions.
"This is my third year taking students to the 100 Black Men College Fair, it is an awesome experience." said Assistant Principal Simmons.